Kerala's forest wealth has been praised by local poets of the Sangham era (first centuries BCE / CE) and by foreign travellers from time immemorial. Perhaps the workmanship of Kerals's wood craftsmen excels wood carving found in almost every State of India and every country in the world, including African and Scandinavian countries. The teakwood of Kerala as well as such timbers as Rosewood, Irumul, Royal wood of Kerala forests have enjoyed world fame for many millennia.
The wood carvings of Malabar Churches are more abundant, more varied, and even often more artistic than similar works in other edifices…especially because even when the Hindu temples began to be influenced by the rock culture of mainland India the Churches mostly continued with their tradition of wood carving. The altars and altarpieces (reredos), Pushpakkoodus (rostra or pulpits), the ceilings and balconies, railings, statues, and Roopakkoodus … all display the highest achievements of the wood carver and the carpenter.

Here are some examples of woodcarving photographed by H.C.Q. Brownrigg of London- of the BACSA). These are from the Church at Kottarakkara.Mr. Brownrigg has taken a large number of photographs and slides dealing with the Kerala churches and has given a number of talks on the same. Read about the Kottarakkara church pictures in his own words:


Dear Professor Menachery,

It was a great pleasure for me to visit you in Ollur and see the Menachery family `mana'. Thank you also for showing me round St. Anthony's, which is one of my favourite Kerala churches. Lastly, thank you for `Glimpses of Nazraney Heritage', which I read on the journey home and found enjoyable and extremely informative on a number of subjects. I also read the book edited by Bosco Puthur, in which MGSN expands on his points about Nambudiri migration.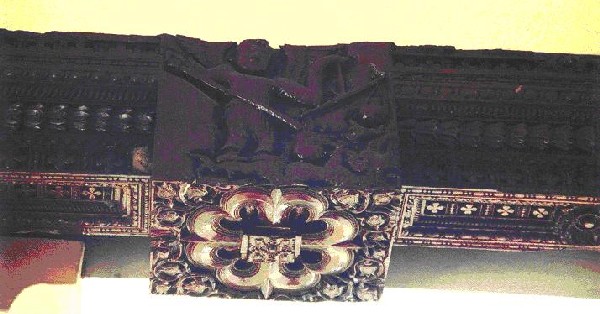 Enclosed are copies of the photographs which I took at the Mar Thoma church in Kottarakkara. ( I am rather proud to have found a church which you have not already visited ! ) What put me into it was a passage in the travel book written almost a hundred years ago by Mrs. E. Hatch in which she describes the church as being in a ruined condition but with fine carvings and beams. Since then it has twice been rebuilt, but one long beam is preserved in the porch. It has eight protruding blocks, of which four have figurative panels. I am not sure what the subjects are.

One looks as if it might be the Annunciation, while another looks like the Weighing of Souls on the Day of Judgment. Incidentally, is the motif underneath these carvings what, in Glimpses, you call an ` Indian Cross ' ? Have you any idea where it originates? It seems half way between being a cross and a more decorative motif like the lotus.

I did not see any sign of an inscription, but one would need to go up on a ladder to look properly. Perhaps it might be worth writing to the priest.

Lastly, in the churchyard there is a deepastambha but without any deepas! Is it just a cenotaph?

I hope to find an excuse to return to Kerala later this year or early next, when I hope we can meet again. Incidentally, a paper based on my talk at Changanasseri is supposed to be being published in the Journal of South Indian History. Since it was written as a talk illustrated with numerous slides I fear that it will be rather hard to understand when only illustrated with a small number of photographs. Have you heard anything about (the persons who organized that Seminar) They all seemed to disappear without trace!

With Best Wishes
Brownrigg